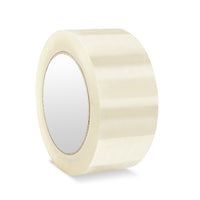 Tape, Poly clear, 2" 110 yds.
Tape, Poly clear, 2" x 110 yds.
Medium duty packaging and shipping tape with an instant and permanent bond to a wide range of surfaces.
Quick, long-lasting, aggressive adhesive seal on boxes and cartons.
Easy to unwind from the roll with our special release coating.
"Good to the Core" for full use of every roll.